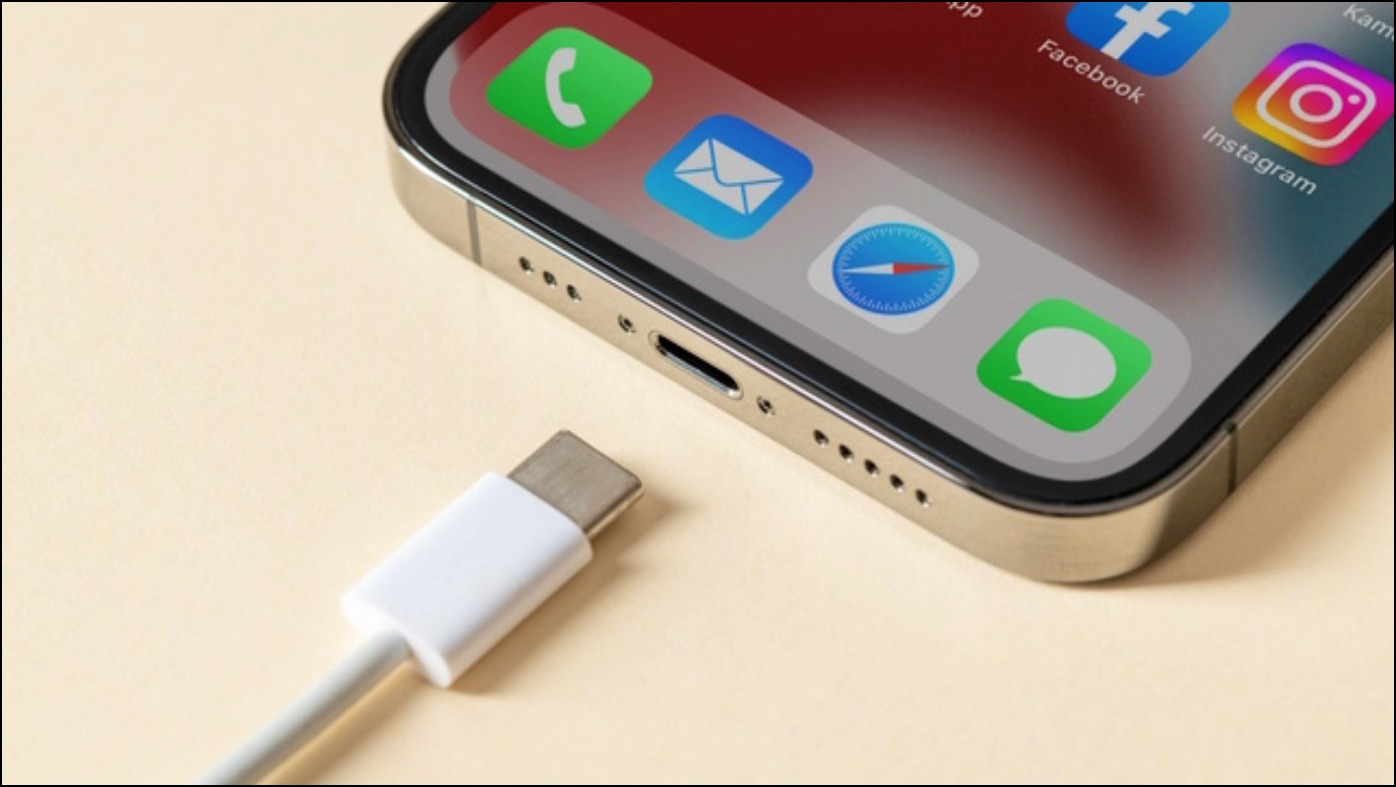 After years of anticipation, Apple has finally replaced the Lightning port with USB-C on new iPhones. As expected, it's not just any other USB-C and has its own caveats in place, which might be confusing for you as an end buyer. Therefore, here's everything you must know about the new USB-C port on the iPhone 15, iPhone 15 Plus, iPhone 15 Pro, and iPhone 15 Pro Max.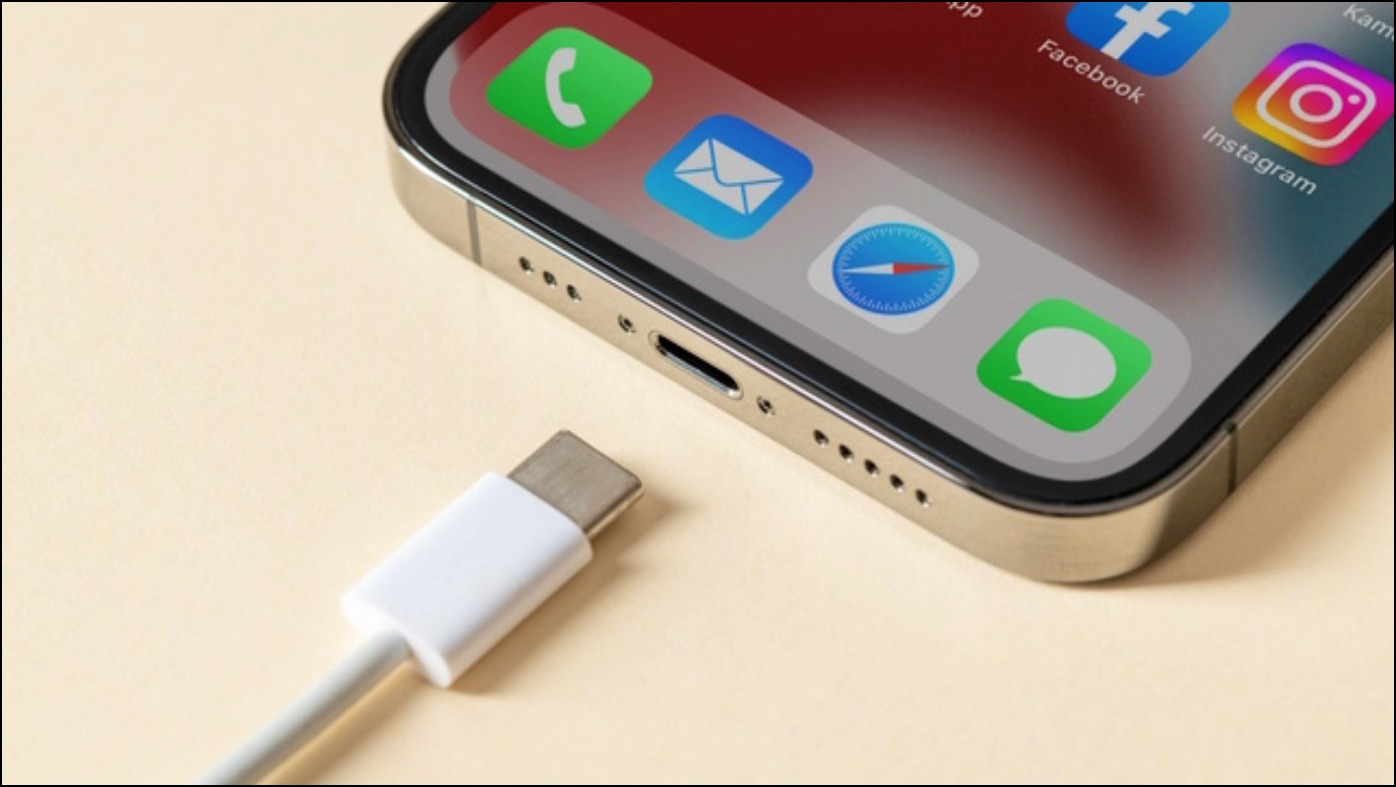 What's the Fuss About USB-C?
USB-C, or Universal Serial Bus Type-C, is a standardized connecter for modern electronic devices. It comes with a symmetrical 24-pin design. This means you can plug it either way without worrying about which side faces up, like Apple's Lightning port.
However, while Lightning was proprietary to Apple devices, USB-C is an industry-standard connector. It is widely adopted across manufacturers and devices, including laptops, smartphones, and accessories. Besides broader compatibility, you also get faster speeds with newer USB 3.1 standards.
Apple switching to USB-C iPhones means one cable for all Apple devices (Macs, iPad, AirPods Pro 2nd gen, etc.) and cross-compatibility with Android phones.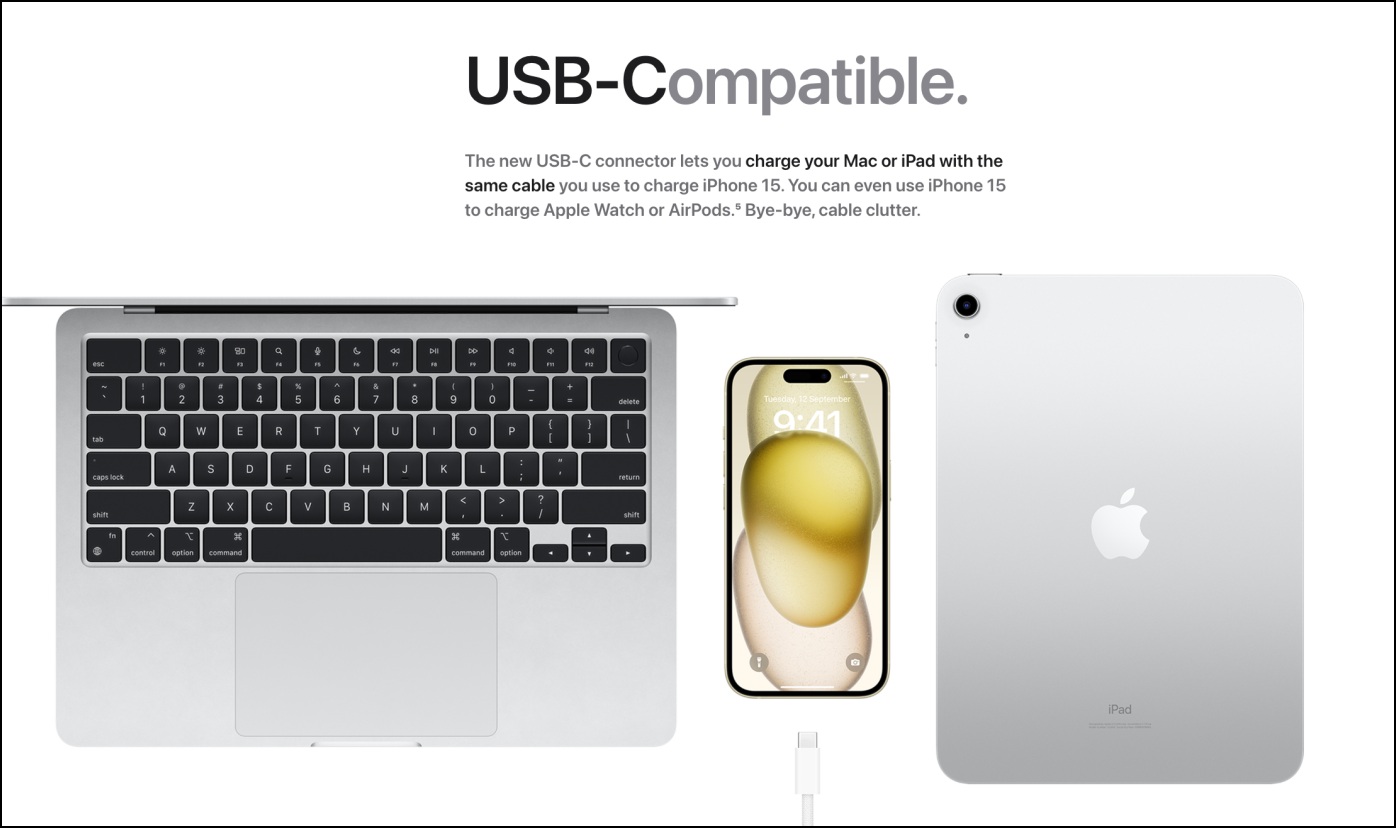 It also allows faster data transfers (iPhone 15 Pro/ Pro Max and future devices), faster charging (USB 3.0 allows speedier output), external display support, and less e-waste overall. And this is why USB-C on an iPhone is a bigger deal than most would assume.
Which USB-C on Which iPhone Models?
All four iPhones released this year, iPhone 15, iPhone 15 Plus, iPhone 15 Pro, and iPhone 15 Pro Max, have switched from Lightning to USB Type-C ports. You can now charge them using the same cable as your iPad and Mac, both of which dropped the Lightning port years back.
Unfortunately, only the iPhone 15 Pro and iPhone 15 Pro Max get USB-C 3 ports (with speeds up to 10Gbps). The iPhone 15 and iPhone 15 Plus come with the older USB-C 2 (with rates up to 480Mbps). While this won't affect your charging speed, it does impact the data transfer. More on it below.

USB 2.0 vs. USB 3.0
The USB Type-A, Type-B, and Type-C are just the connector types. As we dive deeper, these ports come in different generations, like USB 2.0, USB 3.0, USB 3.1, etc.; each version brings more power output and data transfer rates.
The iPhone 15 and iPhone 15 Plus come with USB-C 2.0, matching the Lightning Connector on last-gen iPhones (iPhone 14, 13, 12-series, etc.). On the other hand, the iPhone 15 Pro and iPhone 15 Pro Max with A17 Bionic have faster USB-C 3 speeds to transfer ProRAW images and 4K videos to Mac quickly.
USB 3.2 Gen 2 on iPhone 15 Pro-series
The iPhone 15 Pro lineup has USB 3.2 Gen 2 ports. This means you can transfer the data at rates up to 10Gbps or 1.25GBps. It is backward compatible, so you can still use USB 2.0 accessories with the device.
Don't get confused by the jargon- there's a long history of name revisions and changes. USB 3.2 Gen 1 is the same as USB 3.1 Gen 1 and USB 3.0. Similarly, USB 3.2 Gen 2 is the same as USB 3.1 Gen 2 and USB 3.1 but with a more consistent naming scheme. Here's an article on Verge simplifying the same.
USB 3.0 =  USB 3.1 Gen 1 = USB 3.2 Gen 1 = (5Gbps)USB 3.1 = USB 3.1 Gen 2= USB 3.2 Gen 2 (10Gbps)
The USB-C on the iPhone 15 Pro/ Pro Max also supports DisplayPort output.
What Cable Do You Get with iPhone 15-Series?
All iPhone 15 models ship with a USB-Type C to USB-Type C fast charging cable. However, it supports USB 2.0 only. This means even when you buy an iPhone 15 Pro or Pro Max, you won't get USB 3 transfer speeds out of the box.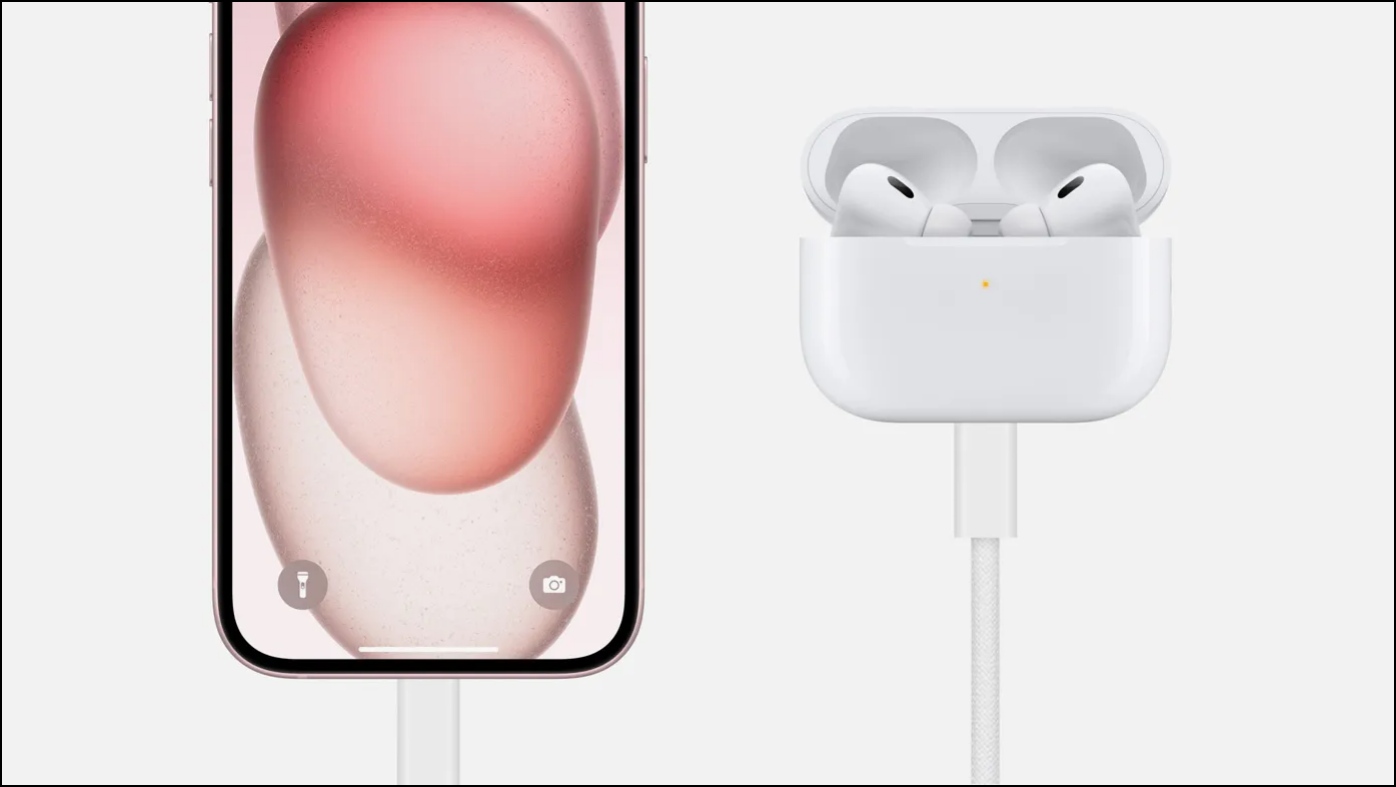 Having said that, you can reverse-charge the updated AirPods Pro (2nd gen) or Apple Watch right from your iPhone using the new USB-C connector. And this works with any USB C-to-C cable. This wasn't possible with the Lightning ports.
Can You Use the Old Cable with iPhone 15?
No, you cannot use your old lightning cable with the iPhone 15. You must use the USB C-to-C cable provided inside the box or buy a new one from Apple or a third party. However, you can also use other USB-C cables to charge your Android phone, iPad, or MacBook with. They'll work just fine.
How to Enable USB 3.0 on iPhone 15 Pro/ Pro Max?
To enable faster 10Gbps data transfer on your iPhone 15 Pro or 15 Pro Max, you must purchase the Thunderbolt 4 cable, which Apple sells separately for $69 or INR 6,900. Also, Apple 60W and 240W USB-C cables support only USB 2 speeds.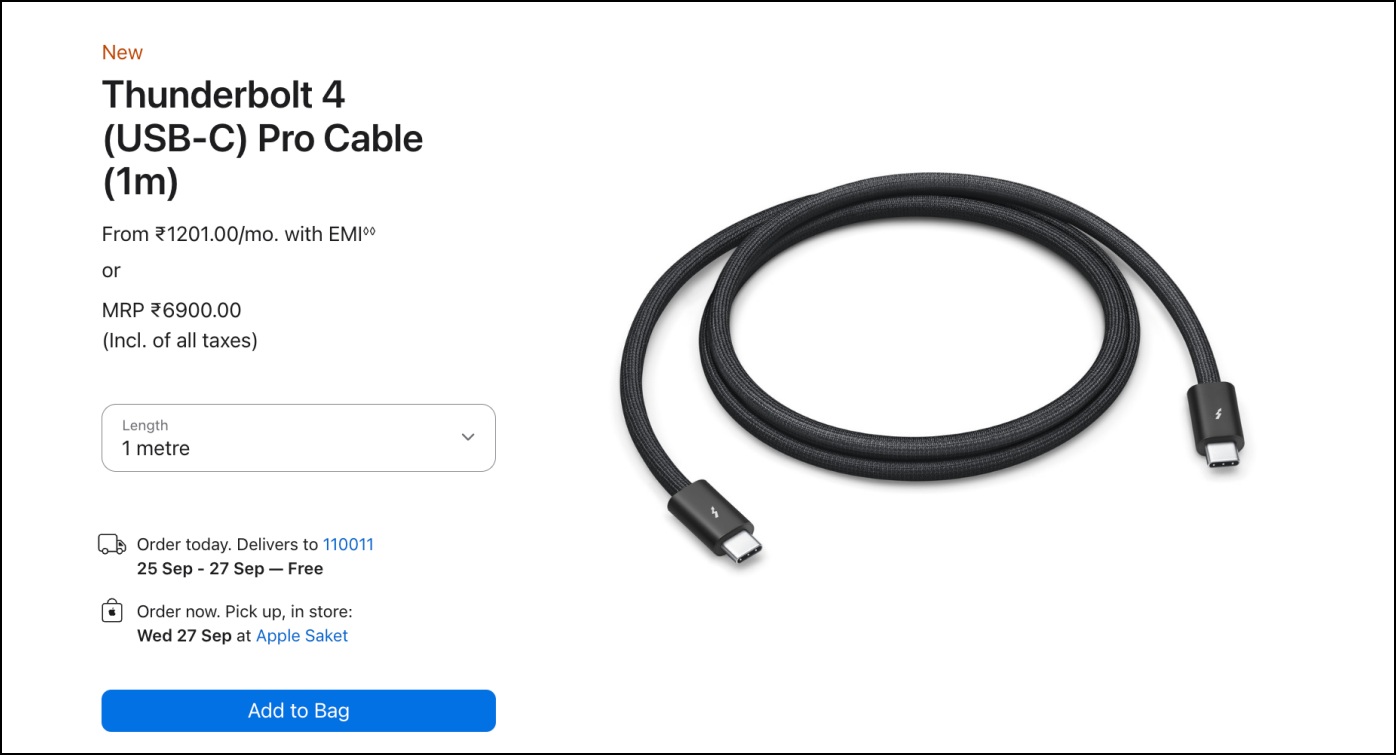 The new Thunderbolt 4 cable might seem expensive because it supports USB 4 data transfer up to 40Gb/s, USB 3.2 data transfer up to 10Gb/s, DisplayPort video output (HBR3), and charging up to 100W.
Alternatively, you can buy third-party USB-C 3 cables that support USB 3.1 or 10Gbps transfer rates.
What Charging Adapters Should You Use with iPhone 15 USB-C?
The iPhone 15 and 15 Plus support 20W of charging. At the same time, the Pro models can charge faster at 35W. All four devices support Power Delivery (PD). This means any Apple or non-Apple PD adapter with comparable output wattage would work just fine.
Apple says you can charge an iPhone 15 from 0 to 50% in 30 minutes using a 20W charger, which is on par with the iPhone 14 launched with Lightning port last year.
How to Use Lightning Accessories with New iPhone USB-C?
If you're upgrading to an iPhone 15 from an older iPhone, chances are you may have accessories with lightning connectors. To use Lightning accessories with the new iPhone 15 USB-C, you'll need the Apple USB-C to Lightning Adapter.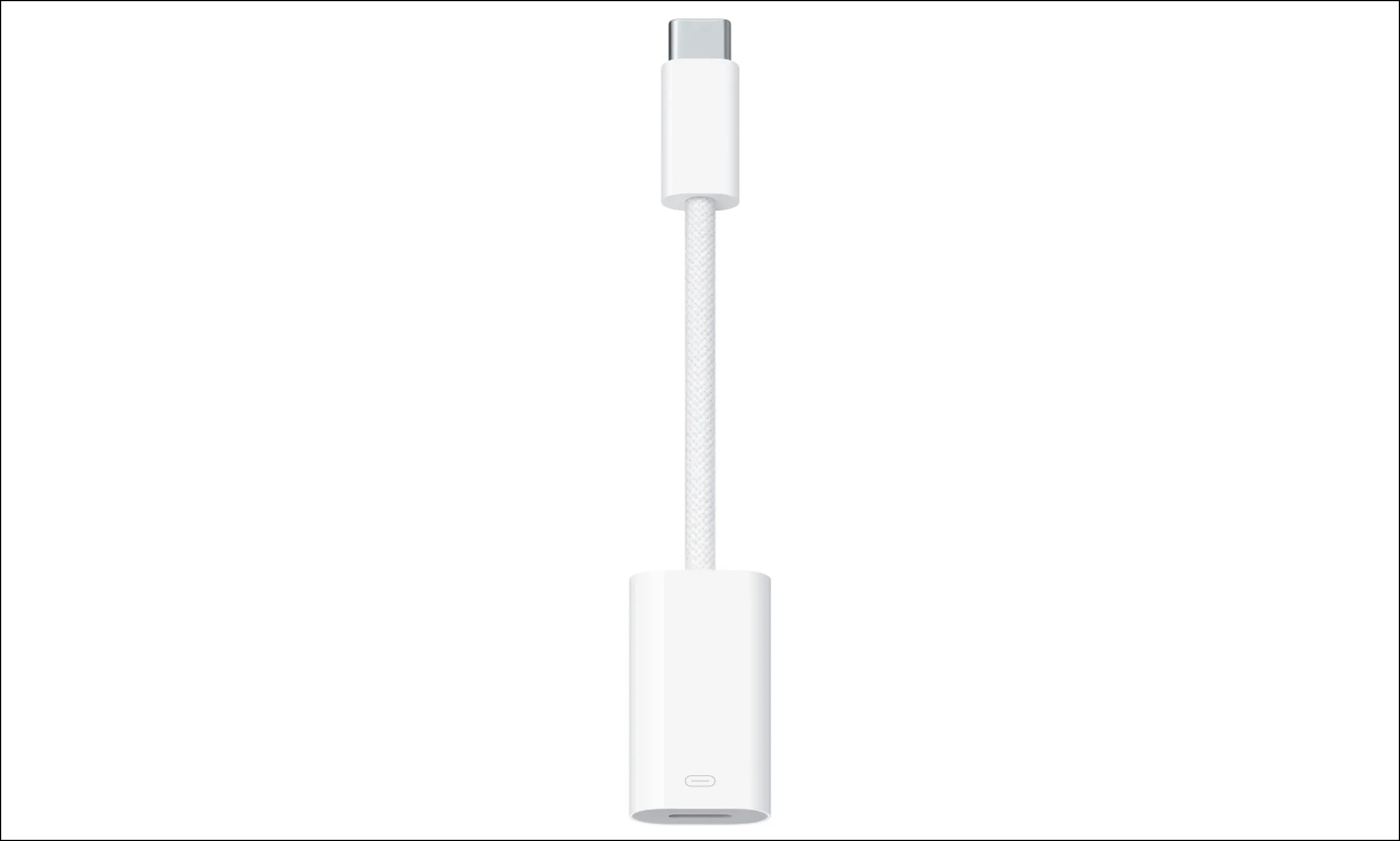 It supports charging, audio, and data transfers. This also means you can connect a USB cable from your car to the USB-C connector on your iPhone. Sold separately, the adapter costs $29 (or INR 2900). However, you'll soon see third-party companies selling similar adapters for a lesser price.
Wrapping Up
This is everything you must know about the USB-C port on the iPhone 15 series. I hope this clears your doubts about USB generation on the four models, their data transfer and charging speeds, and supported chargers and accessories. If you still have any queries, feel free to reach out via email or social media. Stay tuned for more such updates.
You might be interested in:
Source link