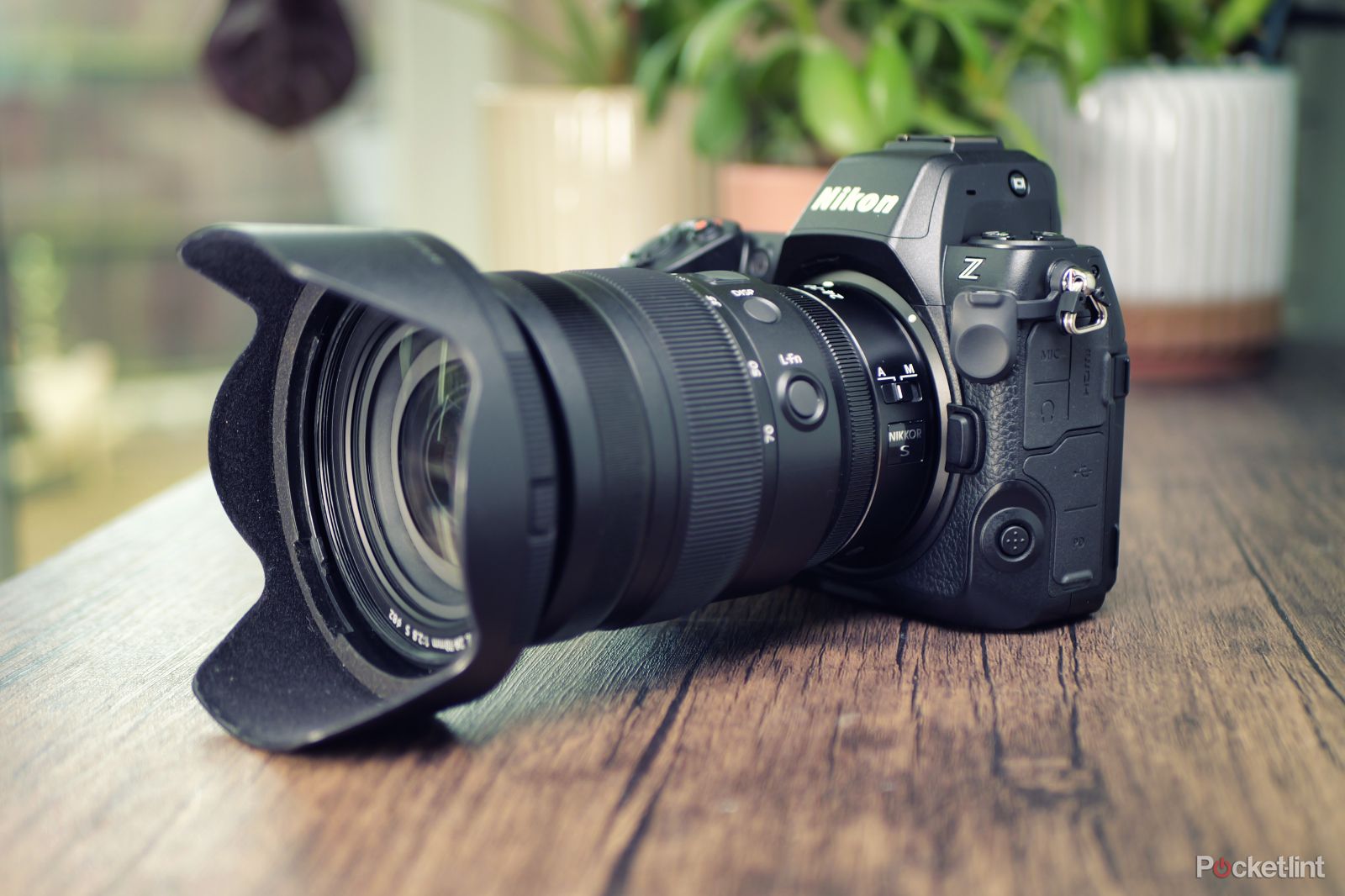 Nikon pitches the Z8 as the mirrorless successor to arguably the best DSLR ever made, the Nikon D850. In reality, it shares more DNA with the brand's flagship mirrorless body, the Z9, only it's shrunken down to be more compact, and it comes at a more affordable price point.
This means it has the potential to be one of the very best cameras that you can buy in 2023, as evidenced by its absolutely stacked spec sheet with loads to offer for photographers and video makers alike.
It's been a while since I've used a Nikon camera, and all the hype around this release excited me to see what the brand offers. I've been shooting with it for the past couple of weeks, and it's safe to say it does not disappoint. Here's how I got on.
Nikon/ Pocket-lint
Nikon Z8
Editor's Choice
The Nikon Z8 offers both speed and resolution whether we're talking photography or video. It can do pretty much everything Nikon's flagship Z9 can do, but in a more compact body and at a much better price.
Pros 47.5MP stacked sensor 20 fps burst shooting in RAW Up to 8K60 / 4K120 video recording Internal ProRes and N RAW
Cons Awful artificial shutter sound Tilting screen is not ideal for video
Specs, price and availability
The Nikon Z8 was announced in May 2023 and is available to purchase now from all major camera retailers. It's priced at $3999 / £3999, which puts it up against formidable cameras like the Canon EOS R5 and Sony A7R V. However, when you consider that the Z8 is essentially a shrunken-down Z9, which retails for around $5500, it starts to look like a pretty great deal.
Nikon Z8
Sensor Size Full-frame
Video Resolution 8K60 RAW / 8K30 / 4K120
Photo Resolution 45.7MP
Battery EN-EL15c
Size 144×118.5×83 mm
Weight 910g
Lens Z mount
Water Resistance Weather sealed
Storage CFexpress / SD card
Design
By taking one look at the Z8, you can immediately see how it got its status as the baby Z9. The chassis is almost identical; it just has the integrated battery grip lopped off of the bottom. It is worth noting that if you prefer the larger chassis, you can always add Nikon's battery grip (MB-N12), which is sold separately for $350 – and is way more cost-effective than opting for the Z9.
Pocket-lint
It's about 30 per cent smaller than the Z9, but it's by no means a small camera; it still weighs in at a hefty 910g, and that's before you add some chunky full-frame glass to the front of it. Despite this heft, it does feel great in the hand, mostly thanks to its spacious and well-sculpted grip.
The controls are well laid out and easy to understand. I especially like the two programmable function buttons on the front, which are within easy reach of your fingers at all times. I always use the similarly placed function buttons on my GH6, and their inclusion made this body easy to adapt to.
However, one thing that's a little harder to get used to is the lack of a PASM dial. Instead, you get four buttons for selecting mode, drive, bracketing and white balance. This means you need two hands to switch mode, as you'll hold down the mode button and select with the thumbwheel. I wasn't a fan of this simply because it's not what I'm used to, but on the plus side, you're much less likely to switch mode by accident, so that I can understand the decision.
Pocket-lint
Connectivity and displays
When it comes to ports, you get a full-sized HDMI, 3.5mm headphone and mic sockets and dual USB-C ports. You also get a 10-pin remote port, which juts out of the side of the camera at a 45-degree angle. It's a bit of an eyesore, but I'm sure users of compatible remotes will be pleased to see it included.
Compared to its big brother, it lacks an RJ45 port, but to make up for it, you get an additional USB-C port, and you can use a USB-C to ethernet adapter if you need to tether the camera. It also lacks GPS connectivity, but workarounds are using the mobile app or 10-pin connector if you need to capture this data. It's not something that matters to me personally, but I'm aware that certain shooters require this.
Pocket-lint
You get a single CFexpress slot and an SD card slot for storage. You'll need to use the CFexpress to shoot in some of the more intensive video recording modes, as, unfortunately, it doesn't seem that the USB-C output is fast enough for portable SSD recording – though it will work in lower settings.
The 3.2-inch 2.1 million dot free-angle tilting LCD is inherited from the Z9, and it's great to use. The touchscreen is really responsive, which is great for setting your focus, and it's also very fluid when swiping through the menus. It's not a flip-out screen, so you won't be using it for vlogging (you'd need arms of steel to do that anyway), but there's articulation in almost every direction, so it's easy to frame your shot in almost every scenario.
The EVF is a little less impressive; it is a 0.5-inch 3.69 million dot OLED panel, and it's perfectly serviceable but lags behind the competition. The EOS R5, for example, has a 5.75 million dot EVF, and the Sony A7R V bumps that up to 9.4 million. It gets the job done just fine, but it's not going to wow you.
Pocket-lint
There's also a small monochrome settings panel on the top of the camera again, this is nothing groundbreaking, but plenty of cameras forego the settings screen, and I'm a big fan of them, personally. It's nice to be able to see your key settings at a glance and not have them cluttering up the LCD/EVF view.
Photo and video performance
The Nikon Z8 shares the same 45.7MP stacked sensor and Expeed 7 processor as the Z9, so it's no surprise that it's capable of capturing absolutely stunning images. I shot with the Nikkor Z 24-70mm f/2.8 S, a versatile lens that's well-suited to the product shots, street photography and candids that I took during the testing period.
As you'd expect from a 45.7MP sensor, there's an exceptional amount of detail; it might not quite match the A7R V's 61MP output, but it has the advantage regarding speed. The stacked sensor can capture up to 30 JPEGs per second or 20 RAW shots; if you drop the resolution down to 11MP, you can shoot at a staggering 120 fps. Comparatively, the A7R V tops out at just 7 fps with uncompressed RAW shots.
An interesting thing about the Z8 (and Z9) is that it foregoes the mechanical shutter entirely. It doesn't need one, clearly, but it does feel strange to use such a high-end camera and not hear that satisfying shutter click when you take a shot. It shouldn't really matter, but the artificial sound is pretty naff, too. Thankfully, you can turn it off for completely silent shooting.
I found the noise reduction quite impressive, and you can still get usable shots at ISO 12800, though I rarely needed to go anywhere near that high. This is partly thanks to the IBIS, or VR as Nikon calls it, which does a great job of stabilizing your stills – although I found it slightly prone to jerkiness in video shooting.
On the subject of the video, the Nikon Z8 is no slouch there, either. It offers a slew of high-end features, including 8K 60fps recording; it's one of very few cameras on the market with such capabilities. Of course, most people won't need 8K60, but if you do, it's available.
Pocket-lint
I'm a sucker for slow motion, and my favourite B-roll setting, 4K 120fps, is available in the Z8. What's more, it'll do it in 12-bit N-RAW and 10-bit 4:2:2. In more standard shooting settings, like 4K60, you can also record in ProRes HQ and ProRes Raw internally.
I didn't have enough time to fully explore the wealth of video options available on the Z8, but so far, it seems like a serious contender. The autofocus is extremely capable in video, not quite Sony-level, but with a similar reliability to Canon and Lumix, which is something that took me by surprise. I'd happily rely on it for the majority of my work.
As I mentioned earlier, the IBIS could be better at video shooting; it has a tendency to jerk a little bit, just as I have seen on recent Fujifilm cameras. It's still good, but there's room for improvement.
Verdict
The Nikon Z8 is an incredible hybrid camera. No matter what you're shooting, the Z8 can likely handle it. It offers wonderfully detailed images, fast and accurate autofocus, super speedy burst shooting and a tonne of pro-level video functionality.
There's no avoiding the fact that it's an expensive and bulky camera, But considering what's on offer, it actually offers great value compared to a lot of the competition and even its own bigger brother, the Z9.
If you're shopping in this price range, I think the Z8 might be the most well-rounded option available today. There's no longer a need to choose between speed and resolution – the Z8 does it all, and does it well.
Source link