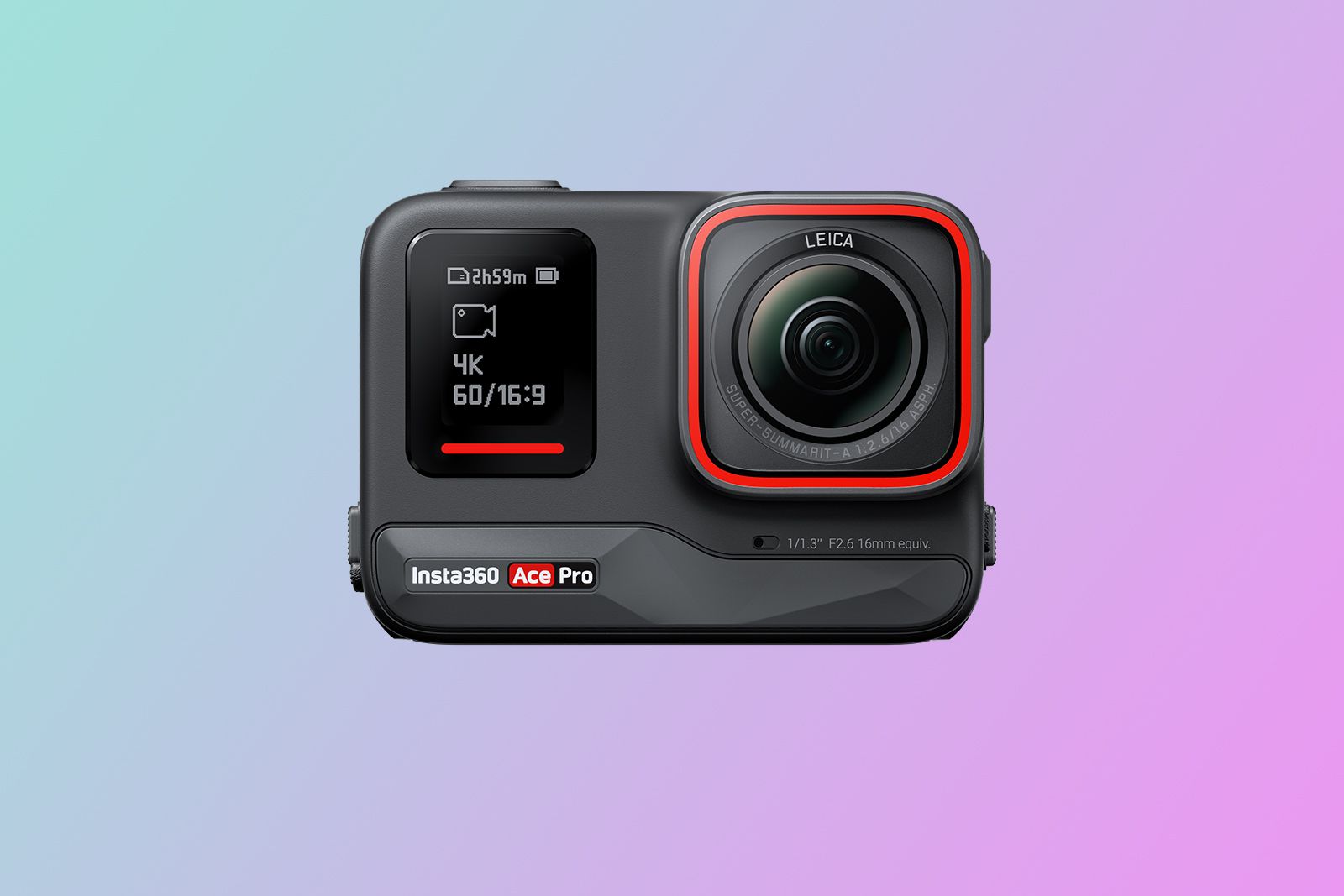 Insta360 / Pocket-lint
Insta360 Ace Pro
Best for low light
Insta360's first traditional action camera is an impressive one, with a large sensor that makes it brilliant for capturing video in low-light situations. It also boasts a flip-up screen, which makes it much more suitable for filming yourself.
Pros Way better at low light recording Higher maximum resolution Flip out screen and quick release mounting
Cons 8-bit colour Mics are susceptible to wind noise
GoPro
GoPro Hero 12 Black
Best for professional work
The Hero 12 Black builds on the success of the Hero 11, utilising a unique 8:7 sensor that allows you to capture vertical, horizontal and square-format videos in excellent quality. It also offers lots of pro-level features like 10-bit colour, a Log profile and timecode sync.
Pros 10 bit colour and Log profile Wider FOV Better audio recording
Cons Struggles in low light App connection is less reliable
Insta360 made a name for itself by creating some of the most unique and innovative cameras available today. However, while most of its cameras are action-oriented, it has never released a typical action camera, instead focusing on 360 cameras, micro cameras and modular designs.
That all changed with the introduction of the Insta360 Ace Pro, the first GoPro-style action camera from the brand. With a large sensor, flip our screen and high resolution, it looks to be quite the contender, too.
The question is, does Insta360 have what it takes to compete with the market-leading GoPro Hero 12 Black? We were excited to find out, so we compared the two cameras from every angle. Here's everything you need to know.
Specs, price and availability
The Hero 12 Black was released in September 2023 and has been available at retail ever since. It costs $399.99, and unlike some of its predecessors, there's no GoPro subscription required to unlock this pricing.
The Insta360 Ace Pro was announced on November 21 2023, and made available to purchase on the same day. It retails for the slightly higher price of $449.99
Here's how the two cameras compare at a glance:
Insta360 Ace Pro
GoPro Hero 12 Black
Sensor Size1/1.3-inch1/1.9-inch 8:7Video Resolution8K 24fps5.3K 60fpsPhoto Resolution48MP27MPBattery1650 mAh1720 mAh EnduroSize71.9×52.15×38.5 mm71x55x34 mmWeight179.8g154gWater ResistanceWaterproof up to 10mWaterproof up to 10mLensFixed lens protectorReplaceable hydrophobic lens protector
Design
Both cameras are similar in size and shape, but the Insta360 Ace Pro is a few millimetres thicker and significantly heavier, too. This is largely due to the flip screen on the camera's rear.
Both cameras have a mode/power button on the side and a record button on top. They also both have removable batteries, a USB-C port for charging and data transfer and a microSD card slot for storage.
They both feature front-facing displays. However, they're quite different in terms of functionality. The GoPro's front screen can be used as a preview monitor for filming yourself, whereas the Insta360's front screen is a monochrome LCD that displays your current settings. This is because the Ace Pro has a flip-up screen that serves the same purpose and has the added benefit of being a touchscreen, whereas the GoPro front screen is only for viewing.
The flip-up screen is great for filming yourself, and it also helps when filming from a low angle, as it can be tilted upwards for easy viewing. There are some instances, though, where the GoPro's design makes more sense. If you mount the Ace Pro in a tight spot, you might find that there's not enough room to flip the screen around, so in that case, the GoPro's front screen is more useful for framing.
There's also a question of durability. The Ace Pro's screen feels plenty durable, but as a moving part, with an exposed ribbon cable on its underside, it's surely less durable than the one-piece construction of the Hero 12 Black. On the topic of durability, it's also worth noting that the GoPro's lens protector can be easily removed and replaced if it gets cracked or scratched, whereas the Insta360 Lens protector is glued into place.
When it comes to mounting, the Insta360 Ace Pro adopts a magnetic quick-release system, much like the DJI Osmo Action 4 or Insta360's own Go 3. We love this, as it means you can quickly switch between multiple mounts as long as you invest in a few extra baseplates. The mounting feels sturdy and durable, and it's not likely to come loose during intense activity. However, we're willing to bet that GoPro's permanently affixed mounting tabs are more durable overall.
Related: Best GoPro accessories: Top mounts, grips and accessories for your action camera
The Hero 12 Black uses the same mounting tabs that GoPro pioneered many generations ago, and they work great; it just takes a little longer to get set up. The Hero 12 is the first of GoPro's cameras to include a 1/4-20 tripod thread in addition to the usual tabs. This is very convenient and not matched by the Ace Pro unless you invest in the brand's optional Quick Release Mount accessory.
App and features
Both cameras have their own companion apps available for iOS and Android. The Hero 12 Black uses GoPro Quik, and the Ace Pro uses the Insta360 app. Both of these applications offer similar features, including remote monitoring and settings adjustment, along with the playback and editing of your clips.
Both offer apps offer the ability to sync your clips to the cloud and can automatically create highlight videos with AI, attempting to pick out the most interesting portions of your videos without you needing to do the work yourself.
The Insta360 Ace Pro adds some more unique features like Motion ND, which simulates a slow shutter speed, adding artificial motion blur to your videos or hyperlapses to increase the sense of speed, and AI Warp, which uses generative AI to create trippy effects for your videos.
The Ace Pro works with the robust Insta360 Studio desktop app for Windows and MacOS, but desktop software is not currently available for the Hero 12 Black. GoPro Quik for desktop is in the works, but there's no set date just yet. It was supposed to launch for Mac in November, but that hasn't happened yet, and a Windows version is slated for Summer 2024.
Neither of these cameras has GPS on board, but the Insta360 can pull GPS data from the app when it's connected to your phone, and it can also sync with Garmin smartwatches or an Apple Watch if you want speed/altitude overlays to your videos. There's currently no way to add GPS data to Hero 12 videos, so if you're looking for that feature, you'll need to opt for the Hero 11 instead.
Both cameras offer the ability to pair with earbuds, which can be used used as a wireless microphone. It's a neat feature, but the audio quality is pretty terrible, so it's no replacement for a proper wireless microphone.
Both cameras can also be controlled with voice commands, which is handy if you're doing watersports and can't use the touchscreen, but the Ace Pro has another cool trick up its sleeve. It also offers gesture control, so if you're filming yourself, you can hold your palm up to start a video recording or throw a peace sign to take a photo.
Another cool feature that's unique to Insta360 is the ability to cancel recording. This means that if you're filming someone attempting a trick and they don't make it, you can press cancel, and the recording won't be saved. This prevents you from filling up your SD card and also means that you won't have to sort through all of the failed attempts looking for the successful one; it's a simple feature but really nice in practice.
Image quality
These two cameras take quite different approaches when it comes to their imaging sensors. The Hero 12 Black has a 1/1.9-inch sensor in an unusual 8:7 ratio, whereas the Ace Pro has a 1/1.3-inch sensor in a more traditional 4:3 format.
The advantage of GoPro's design is that it captures much more vertical information, which is great when you want to crop into a vertical video, and it also enables the extremely wide FOV of the HyperView digital lens. The downside, however, is that you get a tiny sensor when filming in a 16:9 format, and this means it has pretty terrible performance in low-light conditions.
The Ace Pro uses most of its large sensor during 16:9 recording, and this means that it captures bright and detailed images, even in the darkest of conditions. Comparing nighttime footage between the two cameras is like night and day; there's really no contest.
In the daylight, the competition is closer. Both cameras capture similar-looking images and render colours quite similarly, too. We found the Hero 12 Black's image slightly more pleasing in daylight, as it renders skin tones more accurately and is more consistent with its white balance, but for those who aren't as picky, the gap is quite minimal.
Both cameras can shoot in 4K at up to 120fps for epic slow motion or up to 240fps in 1080p. This is exactly what you want in an action camera, as you can see all the intricate details of even the most chaotic scenes. Both offer excellent digital stabilisation, too, making even the most perilous mountain descent look as if it was filmed on a gimbal.
The Ace Pro is the first action camera to offer 8K video recording, whereas the Hero 12 Black maxes out at 5.3K. However, the GoPro can shoot 5.3K at 60fps, whereas the Insta360 can only capture 8K at 24fps. At the time of writing, we haven't been able to test the 8K capabilities of the camera; they're coming in a firmware update, which should land before consumers get their hands on the camera. Realistically, most people aren't going to want to shoot at 8K, especially with such limited frame rates, so we can't see it being a major draw for the Ace Pro.
The main advantage of the GoPro, for our needs, is the wideness of the HyperView lens. It makes first-person biking shots look faster and more intense, as well as capturing much more of your surroundings. The widest FOV available on the Ace Pro is the Action View, and it can't compete, especially in vertical width. However, it's a different story if you like to shoot without barrel distortion in GoPro's Linear mode or Insta360's DeWarp. Here, the Insta360 offers a much wider FOV, while the Hero 12 is very cropped in.
The audio recording is great on both cameras, but the GoPro wins overall. It's much better at suppressing wind noise, and that's something that's very important for an action camera. The Hero 12 also boasts more professional features, like 10-bit colour, timecode sync and a real Log profile for colour grading. The Ace Pro can't match any of these features, and that could be a dealbreaker if you want to use your action camera in a professional video environment.
Verdict
Both of these action cameras are excellent in their own right, and you can't really go wrong with either option. They're both rugged and waterproof and capture exceptional video quality, especially considering their small size and lightweight.
Insta360/ Pocket-lint
If you shoot at night or indoors more often than out in the daylight, the Insta360 Ace Pro is the obvious choice; it's miles better at capturing video in low-light scenarios than the Hero 12 Black. It's also much more convenient, as it has a quick-release mounting system, a flip-up screen that's easier to see and operate, and a better application to connect.
GoPro/ Pocket-lint
GoPro Hero 12 Black
$350 $399 Save $49
However, the GoPro is still the champ when it comes to outright image quality in well-lit scenarios. It also offers better audio and more comprehensive features for professional video shooters, as well as being slightly cheaper. For a lot of people, it's still the right choice.
Source link